The Official Line-Up for the Finale Party tonight is HERE:
9:30-9:45 – Love Cuts
10-10:15 – Synthcake
10:30-10:45 – World Club
11-11:15 – Womankind
11:30-11:45 – Shearing Pinx
12-12:15 – Defektors
12:30-12:45 – Shimmering Stars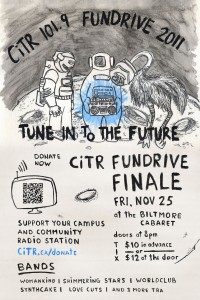 CiTR's annual Fundrive Finale celebrates the contributions of all our donors with a magnificent night of local bands (and silent auction) on Friday, November 25, at the Biltmore Cabaret. Bands include Womankind, Shimmering Stars, Synthcake, Worldclub, Love Cuts, Shearing Pinx and the Defektors. DJ David Love Jones of Rainbow Groove and Radio Zero's Tyler Fedchuk will be spinning tunes between bands. Tix $10 in advance, and $12 at the door. Buy tickets online at brownpapertickets, or at your local record store [Audiopile, Zulu, Scratch, Red Cat]. Check out the facebook event. Here's a list of our silent auction donors.