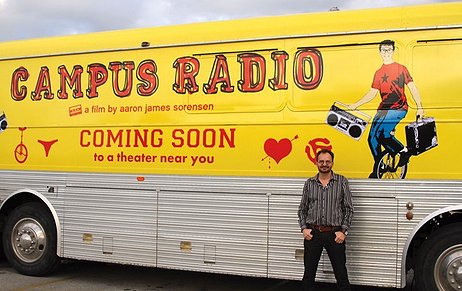 Radio has been a theme of movies lately, such as Talk to Me (2007) starring Don Cheadle. Most recently Alberta-born writer, director and producer Aaaron James Sorenson brings the college radio environment to the movie screen.
Campus Radio is about the romantic and professional travails of Xavier Thortenberry (Tom Belding), a unicycle-riding band manager and college radio DJ who falls for his group's new lead singer. It is a lovely romantic drama and comedy taking place in a college radio station, with a sprinkling of indie rock for edge.
"I now realize it's for people who have that deep relationship with music where it's their best friend. This is a guy who, when the going gets tough, he turns to his vinyl record collection. He doesn't really have any close friends; he goes to his music. There are a few of us like that", said Sorenson to Edmonton Journal.
The filmmaker also stressed the importance of a campus radio. "They have these diverse communities that somehow manage to get along together: you'll have the radical lesbian hour, young conservatives, death metal and Goths followed by Christians", he added.
The movie premiere will happen this Friday in Edmonton. For more information look at:
Film website: https://www.campusradiothemovie.com/filmmakers.html
Film trailer: https://www.youtube.com/watch?v=WaYgAfwmuwc