On today's show…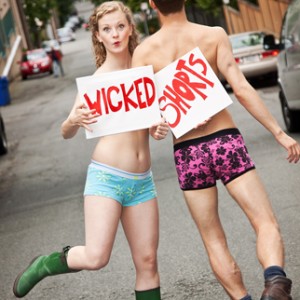 Wicked Shorts
No… they are not demon-possessed pair of denim cut-offs but short theatre performances that all started with Marisa Smith and Elizabeth Kirkland. Wicked Shorts is a culmination of four plays that brings hilarity to every day and unusual romantic situations (as if they weren't funny enough!). It includes 'Matador Love' that is a romantic comedy about a blind date from hell and 'Rendez-vous' that telepathically reveals the thoughts of a waiter serving during date night. With a sold out show at Vancouver Fringe at the Wicked Cafe, they turn The Cultch into it's own culture cafe with the two actors entering around you. The director, Marisa Smith will be on show to talk about her shorts.
Playing at The Cultch from Sept 21st – Oct 9th, for more information click here!
The Cove: Leah Lemieux
A free movie screening of the Academy Award 2009 winning documentary, The Cove, will be happening at SFU Harbour Centre with a presentation and discussion from Leah Lemieux. She's the author of 'Rekindling the Waters' where she explores her background with dolphins and her work for the past 20 years for dolphin conservation and conservation initiatives. The Cove is about a covert operation by a team of activists and divers to a small fishing village in Taiji, Japan to uncover what they're doing in the ocean. On the show, we'll have Leah here to talk about dolphins!
Playing tomorrow, Sept 22nd at 7PM, register here!

Vertical Bridges
Hailing from Ireland, Paddy McCann's 'Vertical Bridges' debuts in Canada at Petley Jones Gallery! His paintings are an abstract dialogue between the cityscape and landscape with predominantly windows, bridges and eyes that are objects that have become gateways, openings or portals to other experiences or perhaps to a reflection of yourself… Paddy McCann joins us this week to talk about his artwork.
Available at Petley Jones Gallery from Sept 8th – 22th! Don't miss it!
Also on the show…
…we have 'Pick of Fringe!' where we'll talk about Grim & Fischer, a comedic exchange between Grim, the Grim Reaper and Mr. Fischer, a prankster senior who doesn't want to die just yet.
…. our book segment where our correspondent, Maegan Thomas who will talk about 'Opening Doors', a book about Strathcona's rich cultural past.
Tune in today at 5PM!
Subscribe to the Arts Report podcast.
Hear past interviews on YouTube!
Follow us on Twitter.
Like us on Facebook!