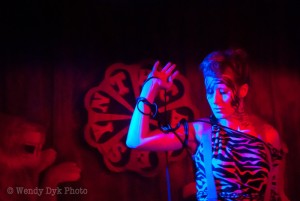 CiTR and AMS Events presents Tyranahorse September 13, outside UBC's student union building!
The East Vancouver band Tyranahorse will be special guest at Tuesday`s Live@Lunch, a free September lunchtime music series. The gig will be hosted by Oswaldo on The Morning After Show, live broadcast between 12-1:00 pm.
Tyranahorse describes itself as a noise, grunge, classical, pop, old country, hip hop, rock, and early hardcore band. Its last album, Ghostwolfmotherhawk-prairieunicornlionlioness, is inspired by noise, grunge, kazoo, pop, classical country. hardcore, The Pixies and the B-52′s.
Lead by the singer PrOphecy Sun (read what Discorder said about her), Tyranahorse is also Darren Fleet (vocals and guitar), Brent Glasgow Brown (drums and percussion), Max Stockholder (keys and shredding) and Jaro Welz (bass and claps).
You can also read to the last Tyranahorse`s review at Discorder Magazine by clicking here.
Click here to listen to the band: Teenage Girl by Tyranahorse