On the show today…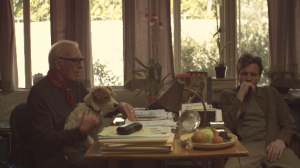 Beginners
'Beginners', a film by Mike Mills, was based on personal events that happened at the beginning of 21st century. At the age of 75, his father revealed to Mike that he was gay after a marriage of 44 years and had terminal cancer. After his father's death in 2004, as Mike was still struggling with the information, he turned to writing 'Beginners' as a way of communication after death his father. Beginners is a fictional account of Oliver (Ewan McGregor) falling in love with volatile but lovely Anne (Melanie Laurent). As this new relationship begins, he is reminded of his father, Hal (Christopher Plummer), and his adventures after coming out at 75! The Arts Report interviews him about his writing experience today.
Available in local cinemas on June 24th!
The Verona Project
A reinvention of the classic Romeo and Juliet play by Shakespeare, 'The Verona Project' transforms Verona into a city much like our own. The characters could be the local youth on The Drive or the gangs the ones you see on television, Evan Frayne turns this tale of 16th century Italy into a more accessible narrative. The minor characters are also fleshed out into more dynamic personalities with more personal monologues. Aslam Husain plays Romeo and he is on the show today talking about 'The Verona Project'
The Verona Project begins next week on Jun 29th – Jul 2nd, at the Pacific Theatre. Click here for more information or call The Pacific Theatre Box Office, 604.731.5518 for tickets.
Tune in today at 5PM! We're also giving out free tickets to SHIFT: One Act Festival!
Subscribe to the Arts Report podcast.
Hear past interviews on YouTube!
Follow us on Twitter.
Like us on Facebook!