On the show today…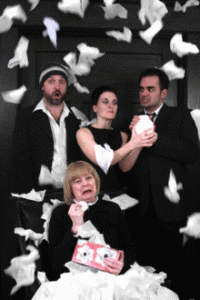 A Guide to Mourning
At Performance Works this week, two theatre companies, Upintheair and Genus Theatre collaborate to produce 'A Guide to Mourning'. A dark and hilarious theatre piece about a family brought together as they attempt to plan a funeral after the death of their father. The widow, Deirdre sees her three adult children and once again has to deal with their messes and oddities as they all try to mourn their husband and father.
'A Guide to Mourning' is from Jun 8th – 12th, get more info and tickets here!
Charles Demers
Charles Demers joins The Arts Report for an extended interview! As a Vancouverite, comedian and activist, he talks about his various endeavours such as being a regular debater CBC's The Debaters and a co-host on CityTV's The Citynews List. He's also judge's choice for Vancouver's funniest new comic and released a novel called "The Prescription Errors'.
Tune in today at 5PM!
Subscribe to the Arts Report podcast.
Hear past interviews on YouTube!
Follow us on Twitter.
Like us on Facebook!