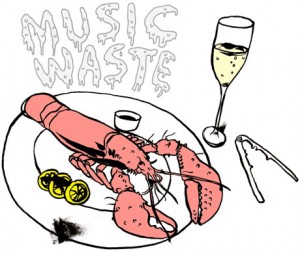 CiTR is proud to be a sponsor of MUSIC WASTE!
Running from June 1st-5th Vancouver's Music Waste is BACK for its 17th year!
You got your pass yet? For $15(+ service charges) you can have ALL of what's listed below + so much more(via life experiences) + still have tons of money left over for corndogs & slurpees:
MUSIC WASTE
OVER 110 totally rad local bands at multiple venues all walking distance from each other, serioussssss. I would list a few bands in the lineup, BUT THEY ALL SO GOOD- so check out the full thing here: schedule
ART WASTE
A series of awesome art exhibitions taking place at some independent galleries all across town. Intrigued? Oh, well then, maybe you should go here for more info: schedule
COMEDY WASTE
If by chance enjoying your life is something you would like to consider, use your pass to check out some of Vancouver's funniest sketch comedy and improv at various clubs all over town through Comedy Waste …………………………….. schedule
POP-UP WASTE
Pop-up waste makes sure that you can have fun alllllll dayyyy lonnnggg by featuring matinee shows in non-traditional venues such as record stores and coffee shops
Passes can be found at:
Neptoon Records (3561 Main Street )
Zulu Records (1972 W 4th Ave)
Scratch Records (726 Richards Street)
Redcat Records (4332 Main Street)
PS- That Magazine from CiTR 101.9 aka DISCORDER is printing the schedule in its JUNE ISSUE, so be sure to pick it up when it comes out!