PODCAST NOW AVAILABLE: CLICK HERE!
On Today's Show…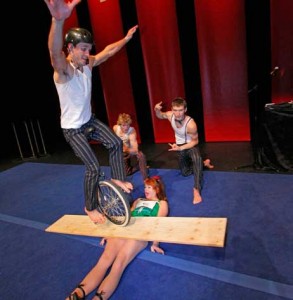 Children's Festival: Circa
Circa, an acrobatic performing company hailing from down under, reveals 46 Circus Acts in 45 minutes at annual Children's Festival. These Aussies flip, fly, bend and juggle to perform seemingly impossible bodily feats as they battle time to finish their acts. This particular performance with delightful and funny antics is targeted for kids five and up but with their fast and exciting music score and daring acts is fun for the whole family.
Playing on various dates early next month, click here for the schedule and ticket information.
In The House Festival
With 19 shows in three days, In The House Festival invites you back this year right into the homes on Commercial Dr. to view over 60 acts right in the intimate settings of backyards and living rooms that are transformed into culturally diverse and unique performance spaces. There's a little bit of everything for everyone in this all-ages show including some cabaret, jazz , banjos and of course puppets! In the House Festival executive director, Myriam Steinberg will join us to talk about the festival!
Performing at a dozen homes around Napier St. and Victoria Dr. on Commercial, the tickets are available here!
Community Dinner
Community Dinner is a cooking show, biographical theatre show and a dinner party all mixed into one gluttonous event! With food as the uniting element that connects newcomers to Canada and theatre artists, it's essentially a three-month event that has one teach the other a cherished and delicious recipe and then create a performance out of it. Attendees will be able to view the intimate stories behind each of the four dishes served up in a communal setting. Charles Demers, one of the performers, will be on the show today!
Eating from Jun 1st – Jun 4th and tickets are for $37! Get tickets at 604.629.8849 or here.
Listen in today at 5PM.
Subscribe to the Arts Report podcast.
Hear past interviews on YouTube!
Follow us on Twitter.
Like us on Facebook!