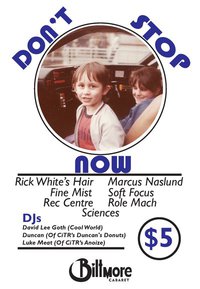 Invite people, this is public, raise money for dogs. May 2nd, say goodbye to friends who are leaving (myself included), meet new people, fight the future. All Money Goes To IFAW, Raising Money for Animals in Crisis Throughout the World.
Ben Lai will be the Master of Ceremonies, wearing a suite, with DJs ANOIZE, Duncan's Donuts and Cool World.
Bands include:
Rick White's Hair (feat. Members of Apollo Ghosts, Fine Mist, Sebadoh, Crucial Taunt, Aids Patience and The Dr. Philharmonic)l, Fine Mist, Role Mach, Markus Naslund, Sciences, Soft Focus and Rec Centre.