PODCAST NOW AVAILABLE: Click here to listen now!.
On today's show…
SAID THE WHALE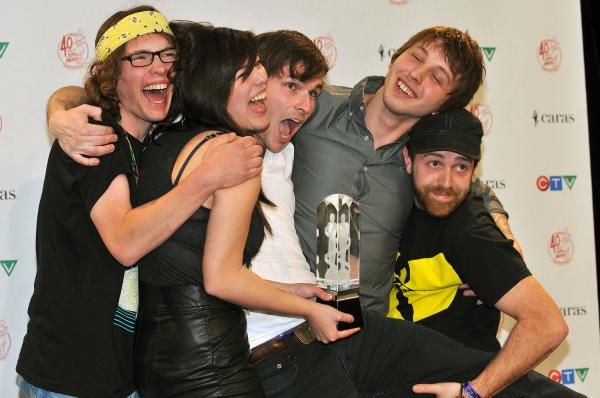 Runners up in last year's Peak Performance Project and now winners of Best New Group of the Year at the 2011 Junos, Tyler from Said the Whale talks to Adam from their tour bus somewhere in Alberta about their journeys around North American and admits to listening to Ke$ha.
Said the Whale and Tokyo Police Club are coming to the Commodore on Saturday, April 23. Get more info here.
DRESS ME UP IN YOUR LOVE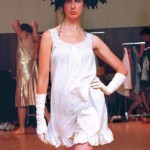 A play that explores identity through clothing, Dress me up in your live has the cast in various states of undress to expose the stories behind the clothes. Theatre Replacement is bringing this play/art installation/fashion show to the Cultch and co-director Anita Rochon is on today's show to give the details.
Dress Me Up In Your Love is at the Cultch from April 19-23 for $15, and you can get tickets here.
PUMP TROLLEY PRESENTS CITIZEN SKETCH
With sketches like "Bear Lift" and "Instances of Confusing Mime", Vancouver comedy group Pump Trolley will be pumping mirth into the China Cloud Theatre. Their team of 8 writers/comedians will explore topics like the rise in genie-crime in the 1920's as well as arctic seals (obviously).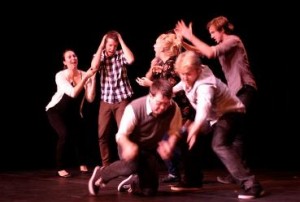 Nik and Ember are on today's show to tell us how far they've come since the group's founding in 2009.
Citizen Sketch is coming the China Cloud Theatre (524 Main St) on April 26. Tickets at the door, $5, and the show starts at 9pm. Check out www.pumptrolleycomedy.com
PUDDLECITY ARTS
Putting local artists together with intimate small venues, PuddleCity Arts aims to develop a better creative scene in Vancouver. Founders Nathan and Marc are on today's show and they're always looking for more artists to promote so get in touch with them: livemusic@puddlecityarts.com
For more info, and to see their huge calendar of events, check out puddlecityarts.com
MAMBO ITALIANO


This sensational comedy has toured all over, been turned into a feature film and rumour has it will be a musical on Broadway. But now it's here in Vancouver: Mambo Italiano, a coming out story set amongst a traditional Italian immigrant family in Montreal. Joe Gallaccio plays the lead, Angelo, and he'll tell us how the show has evolved since it first came out (no pun intended) in Montreal just after 9/11.
Listen in today at 5PM.
ARTS REPORT EXTRA: CURRENT ART EXHIBITIONS

Edge of Landscape
An investigation of Vancouver's relationship to landscape.
Curated by Britt Galpen
April 9 – May 8, open weekends 10 am to 4pm
CUTTY CONTEMPORARY ART GALLERY https://cuttycag.com/
In the Near Future by American artist Sharon Hayes
An examination of the public protest through the use of slogans on placards and how they build a shared collective expression.
Beyond Guilt: The Trilogy by Israeli artists Ruti Sela and Maayan Amir
"…daring and mischievous blend of sex and politics and its jumbling of subject and author."
April 8 – June 5, open Wednesday to Sunday 12 pm – 6 pm
CONTEMPORARY ART GALLERY https://www.contemporaryartgallery.ca/
Subscribe to the Arts Report podcast.
Hear past interviews on YouTube!
Follow us on Twitter.
Like us on Facebook!