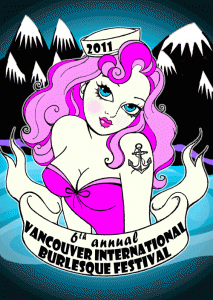 Come celebrate of the one of the world's brightest & most eclectic burlesque communities!
Rickshaw Theatre, May 5th & 6th
Vogue Theatre, May 7th
With fabulous special guests:
ROXI DLITE (Windsor, Ontario) – Miss Exotic World 2011: Reigning Queen of Burlesque as crowned by the Burlesque Hall of Fame in Las Vegas!
SCOTTY THE BLUE BUNNY (San Francisco, CA) – International Cabaret Sensation and award winning burlesque host!
JUDITH STEIN (Nelson, BC) – Original burlesque legend & mistress of the stage!
For festival information and a full schedule, visit the festival website. Be sure to tune in to CiTR's CabaRadio with Teddy Smooth and E-Rock for full festival coverage!