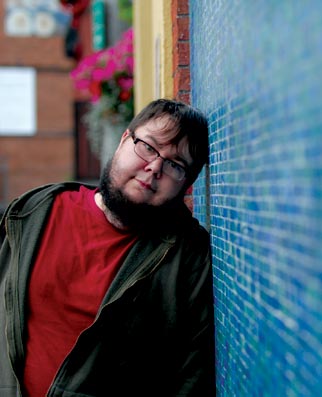 When I was A Kid
Shane Koyczan's "When I Was A Kid" encapsulates the fervent and curious nature of childhood with his spoken word multimedia production. An excerpt of the performance was staged at the 2010 Winter Olympics and the show comes back in its entirety at the Historic Theatre at The Cultch. Shane talks about being bullied as a kid, as well as his childhood dream of being a pro wrestler.
From Apr. 14th – 16th at 8PM, get information and tickets here.
The Vancouver International Poetry Festival comes back again next week and features "Say Wha?! Readings of Deliciously Rotten Writing" by producer Sara Bynoe on Thursday. Sara tells us how the show was inspired by a particular smut novel and answers the question, Why celebrate bad writing?
Happening on Apr. 21st , 8PM at the Roots Lounge, click here for more info on the festival and tickets!
Tape
Actor and director Marisa Smith is a busy artist! After winning two awards at last year's Fringe Fest she's bringing the site-specific play Tape to the Waldorf. She'll tell us about that and about bringing back the award-winning Wicket Shorts to the Cultch in September.
Tape will be at The Waldorf April 20-24. It's in a hotel room and only seats 18 so reserve tickets in advance by calling: 604 671 9776. More info at tapetheplay.ca.
Beckett Soundings
Also on the show we have Inge Israel who is an author of various titles like "Rifts in the Visible" and "Unmarked Doors", discussing her newest publication: Beckett Soundings. A literary response on the work of the Irish poet , Samuel Beckett, Israel counters with her interpretive poems that explore the poet's contradicting psyche.

Beckett Soundings is published by Ronsdale Press.
Listen in today at 5PM!
Subscribe to the Arts Report podcast!
Follow us on twitter: https://twitter.com/citr_artsreport
Like us on Facebook!