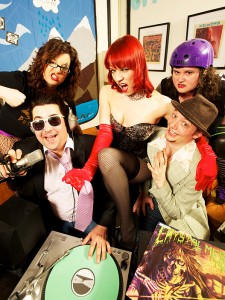 What do you get when you have a man with an idea of re-creating the ever so sassy, sexy, and fun caberet and burlesque? You get CabaRadio! CabaRadio, with six members, started strong on another radio station. Much to the dismay of Teddy Smooth-one of the five members of Caba-it only lasted nine months.
Five to six months later, Smooth had his own idea about CabaRadio, and in April of 2009, he pitched his idea to CiTR Radio, and they've been on air ever since.
Last Thursday, the 24th, "Urban Pie" magazine published their magazine with a cover story of CabaRadio inside.
The main guy at CabaRadio, Teddy got 3rd place in "local radio personality" in the Westender "Best of" issue. CabaRadio itself also got 2nd in "best local podcast." Check out CabaRadio Tuesdays from 11pm-12:30am right here on CiTR Radio, 101.9 FM Vancouver.