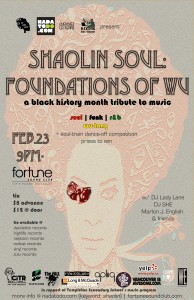 SHAOLIN SOUL: FOUNDATIONS OF WU is a tribute to the musical inspirations of The WU-TANG CLAN, as showcased in the group's Shaolin Soul albums. The event is in honor of BLACK HISTORY MONTH and will feature a *SOUL TRAIN DANCE OFF* competition!
2 ROOMS >> 1 = SOUL.FUNK.R&B | 1 = WU-TANG
Featuring DJ LADY LANE, DJ SHE, DJ MARLON J. ENGLISH.
Tickets: $12 @ door | $8 in advance online or at Vinyl Records (319 W. Hastings), Zulu Records (1972 W. 4th Ave), Dandelion Records & Emporium (2442 Main St), Neptoon Records (3561 Main St), Redcat Records (4332 Main St), Highlife (1317 Commercial Dr).
COMMUNITY GIVE-BACK:
In an effort to promote music making among Vancouver's youth, we will be donating 50% of our proceeds towards the Templeton Secondary School's (727 Templeton Drive) music program.