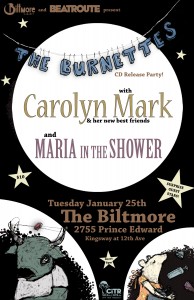 Tuesday January 25th at Biltmore Cabaret, The Burnettes play to celebrate their fourth record, A Boy & A Girl, being released February 1st.
With Carolyn Mark & Her New Best Friends and Maria In The Shower opening, and special guest performers, Carolyn Mark, Geoff Berner, Marta Jiubek-McKeever (Fandeath, ESL) to name but a few.
Go to The Burnettes myspace to check out their new single, Long Distance Relationship, featuring Carolyn Mark on piano. And come by the Biltmore January 25th at 8pm for a great show!