On Wednesday's Arts Report…
The podcast is now available. Click here to listen now!
Fish Face
The first of this season's Family-Time Series at the Cultch, Fish Face tells the story of a young bride going on a fantastical journey to find her groom. Writer and performer Ginette Mohr is on today's show to talk about this Cultchivating the Fringe Award winning play.
Click for more info and tickets to Fish Face at the Cultch, from Dec 3-5.
Jade in the Coal
A fusion of western theatre and Cantonese opera, Jade in the Coal is a play within a play about a Chinese theatre troupe arriving in the bustling mining town of Cumberland, BC, at the beginning of the 20th century.

Jade in the Coal is playing now until Dec 4th at the Freddy Wood Theatre at UBC. Click here for tix!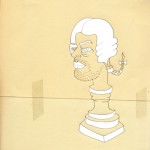 Cyrillic Typewriter
Artist Jason Zumpano is wrapping up a show of "sonically sculptural" music pieces called Cyrillic Typewriter on December 4th. We'll get the scoop on this unique art form on today's show.
Cyrillic Typewriter is showing at Vivo Media Arts with a closing reception on Dec 4. Click here for more info.
The show will also feature…
Bands Kodiak Nightlife and the Inhabitants ahead of their respective upcoming shows, plus humorist and former host of Basic Black on CBC radio, Arthur Black talks about his new book, A Chip Off the Old Black.
Tune in today at 5PM!
Subscribe to the Arts Report podcast!
Follow us on twitter: https://twitter.com/citr_artsreport