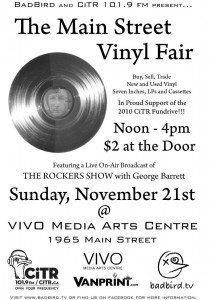 The Main Street Vinyl Fair
Date : Sunday, November 21st, 2010
Time : Noon – 4 pm
Place : VIVO Media Arts Centre – 1965 Main Street
Entry Price : $2 at the door
The Main Street Vinyl Record Fair is back at a new venue. Buy, sell, trade – new and used vinyl, seven Inches, LPs and cassettes. Get your vinyl fix for the Xmas season. The event will be broadcasting live on air – featuring THE ROCKERS SHOW with George Barrett!!! If you have Vinyl you'd like to donate to CiTR's vendor table contact Brenda at citrmfr@ams.ubc.ca. Vendor tables are still available. For more info reach us at events@badbird.tv.