PODCAST NOW AVAILABLE HERE
On Wednesday's Art Report…
…the Halloween edition!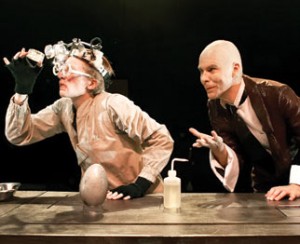 Dr. Egg and the Man with no Ear
Director Jessica Wilson talks about this weird and whimsical play for young and old alike, featuring both puppets and deep ethical issues of cloning, stem cells and genetic modifications.
Dr. Egg and the Man with no Ear is playing now at the Cultch until November 6th.
Bite Me!
The Fangcouver TheatreSports League proudly presents Bite Me! – an evening of spine-tingling paranormal comedy competition. Executive Director Jay Ono explains how vampires and warewolves duke it out for improv supremacy.

Click here for tickets and info!
The Vancouver Horror Convention
Artists, film makers, special effects personnel and local vendors converge on Main St. to celebrate the horror subculture in Vancouver. Raien Naraghi gives us the scoop!
Check out the Facebook page for details.
To Hell and Back: The Phantasmagoric Adventures of Hellen Beck A ghoulish hostess by the name of Hellen Beck takes you on a tour to Hell and back on October 30 and 31. In the House Artistic Director Myriam Steinberg tells us all about it.
Last year's tour sold out fast, so get your ticket!
We're also talking to Chan Hon Goh of renowned Vancouver dance company Goh Ballet Youth Company about it's Discover Dance! open house at The Dance Centre. Also, we'll tell you about Tiny Party, enclosed in a 8x8x8 box at UBC, complete with DJ and make-out closet!
Plus giveaways! We're giving away 2 tickets to AUTUMN PORTRAIT at the Forum on Granville tomorrow night, INCLUDING A $50 BOOZE TAB!! If that's not enough, we've also got tickets to The Bloody Beetroots on Nov 5!
Listen in at 5pm!