On Wednesday's Art Report…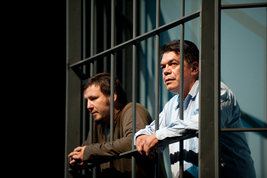 Thunderstick
If you're a big fan of Corner Gas, then tune it today for a chat with Lorne Cardinal who is in town performing the play, Thunderstick. It opens with an ode to a painful hangover and follows up with more comedic hilarity as two clashing journalists chase after a political conspiracy. Thunderstick is playing at the Firehall Arts Centre from now until October 31st.
23rd Vancouver International Writers and Readers Festival
100 Authors. 68 Events. 6 Days. An annual week-long event for all you local literature nuts out there is happening on Granville Island from Oct. 19th – Oct. 24th. On the show tonight, the art director Hal Wake virtually pops in to talk about the festival.

Click here for more information on the festival!
The Vancouver Playhouse and DAREarts
An amazing educational extravaganza is taking place this week at the Playhouse, with DAREarts teaching literacy through creativity to Britannia Elementary students, with murals and a small performance on saturday's matinee of The Fantasticks (running until Oct 30).
Find out how you can get involved with DAREarts here!
We're also talking about the art/film exhibition Belkin Art Gallery from an Amsterdam-based artist, Mark Boulos, as well as the Surreal Project, a new unconventional art form which fuses theatre and surreal visual art together, showcasing at the Inlet Theatre in Port Moody on Friday and Saturday night!
Plus 2 free tickets to the Surreal Project for either Friday or Saturday!
Listen in at 5pm!