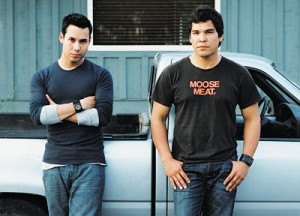 Cineworks Independent Filmmakers Society, Women in Film and Television and Praxis Centre for Screenwriters, in conjunction with the https://www.viff.org/festival/, are pleased to present the 16th Annual program of Meet the Filmmakers. This series of informal dialogues and insightful panels of filmmakers 'in conversation' offers the unique chance to glimpse the creative process from behind the screen, and through the eyes of some of contemporary cinema's most intriguing auteurs.
October 8th at 3:30 pm features Sara McIntyre, director of the VIFF feature Two Indians Talking, in conversation with director Scott Swan.
October 11th at 4 pm sees Aaron Katz, writer/director of the film Cold Weather in conversation with Patricia Gruben, Director of Praxis Centre for Screenwriters.
October 11th at 6 pm don't miss Amazon Falls director Katrin Bowen and Hlima Ouardiri, director of Moukhtar, in a panel moderated by Carol Whiteman from Women in the Director's Chair.
All Meet The Filmmakers sessions are FREE and open to the public – join us in an intimate encounter with film! It's all happening at the Vancity Theatre Atrium – 1181 Seymore Street. CiTR is a sponsor of this event!