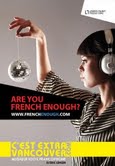 Are you French enough?
The summer is over, it's back to school for UBC students, but is also time to return to your favorite french night C'est extra Vancouver! … 5th anniversary.
Once again, on Saturday September 25th, come dance and sing to the biggest hits of the French repertoire of the last 40 years… For this first show of the season, DJ Eric Lenger and our own Marie-Eve Dumulong from French Connection will share the stage with French singer Raphael Torr who will do an "hommage" to Joe Dassin. Come and spend an awsome night with the biggest hits of Dassin!
The special anniversary edition of C'est Extra Vancouver! will be LIVE on CITR from 11pm to 1am Saturday September 25th. All the others events of C'est Extra Vancouver! will be broadcast on CITR 101.9 FM from 3:30 to 5:00 PM every following Thursday afternoon during the French Connection radio show. Click here to access podcasts of French Connection. Just tune in!
Get sexy, get ready, get French!
C'est Extra Vancouver! … 5th Anniversary
Saturday September 25th
Backstage Lounge, Granville Island
Doors : 8:00 PM
Music starts at 10:00 PM.
Cost: $15 (only for the first edition, included Raphael Torr show)