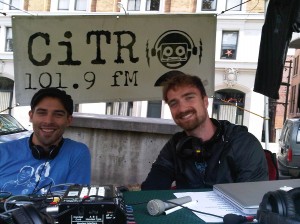 On Sunday September 5th CiTR 101.9 FM broadcast the ENTIRE Victory Square Block Party live from 2-9pm. Check out our podcasts of that broadcast here:
https://feeds.feedburner.com/Citr–SpecialEvents
Part 1 – hosted by Adam Janucz features music by Sex Church and Ora Cogan and an interview with Sex Church.
Part 2 – hosted by Chrisariffic and Duncan features music by Apollo Ghosts, Makeout Videotape and Lord Beginner. As well as interviews with Apollo Ghosts, Ora Cogan and Lord Beginner.
Part 3 – hosted by Luke Meat features interviews and music by The Tranzmitors and The Pack AD!

This day of free music and comedy in downtown Vancouver was presented by Music Waste and Megaphone Magazine.