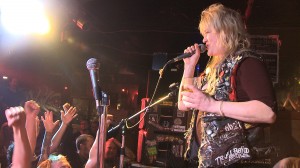 We are excited to announce a night of film, rock n' roll & mayhem to kick off and raise funds for the upcoming screening tour for the No Fun City documentary. Saturday, September 4th at The Rickshaw Theatre, screening at 7:00pm, bands at 9:00pm.
The night will include performances by VAPID, TWIN CRYSTALS, DEFEKTORS AND THE FURIES + SPECIAL GUESTS! DJ J-Hag from 3 Inches of Blood will be DJing throughout the night. As well as raising funds for the film's upcoming tour, this event will be an opportunity to celebrate a thriving indie music community and a chance to raise awareness of local organizations such as the Safe Amplification Site Society.
No Fun City reveals venues being closed, parties being raided and musicians resorting to playing in illegal venues, warehouses, and even parking lots in order to keep the scene alive. The story is told through interviews with legendary Vancouver bands such as Skinny Puppy and DOA as well as current Vancouver bands like 3 Inches of Blood and Japandroids and features live high-energy music performances, candid behind the scenes action, and a throttling Rock'n'Roll soundtrack.