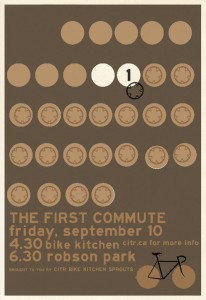 Yes, we are at it again.
With the dawn of a new school year, it's time to get re-acquainted with some old friends who have missed you dearly over the summer. CiTR, The Bike Co-op, and Sprouts invite you to join in an evening of music, games, and oh so many dance parties on Friday, September 10th.
We have an evening of fun planned for you – keep tuned for more details.
4:30 – Meet at the Bike Kitchen (north side of the Student Union Building)
5:30 – Group Ride from the Bike Kitchen to Robson Park at a Leisurely Pace – All Welcome
6:30 – Arrive at Robson Park for Games, Music, and a BBQ
Dusk – Head Out Into the Night for Super Secret Dance Parties!
10pm – After Party