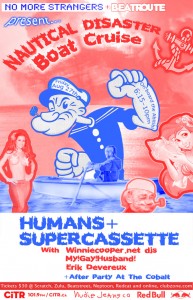 Join CiTR 101.9 FM and No More Strangers for the Nautical Disaster Boat Cruise with Humans, SuperCassette, My!Gay!Husband!, Erik Devereux / Genie, and Winniecooper.net Djs Hunk the Drunk and Christian Flores on August 27 on board the Abitibi.
Boarding of the Abitibi begins at 6:15pm and departs Plaza of Nations Pier B at 7pm. The boat returns at 10pm for the official after party at No More Strangers at the Cobalt. Entry is included with ticket. 10pm-2am with Dj Zia of Jack Your Body fame, Cherchez La Femme (Fortune/Astoria/Olio) and the Winnie Djs.
Tickets are available at Scratch, Zulu, Beatstreet, Neptoon, Redcat and online.