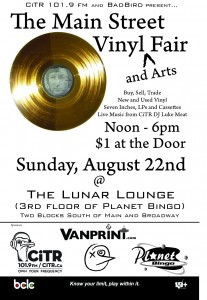 Do you like buying and selling vinyl? Come out to the Main Street Vinyl and Arts Fair to browse for new music. CiTR Music Director and host of Anoize, Luke Meat will DJ the event. If you are interested in booking a vendor table, please contact Robert at robert@badbird.tv.
Sunday, August 22nd, 2010, Noon – 6 pm at Planet Bingo – two blocks south of Main and Broadway
Entry Price : $1 at the Door
Sponsors : CiTR, VanPrint, Badbird and Planet Bingo
——————–
But wait there's more… there's an AFTER PARTY! Join us from 8pm to 12pm for a private After Party! featuring cheap beer and an open DJ set (share a play of those new records you scored earlier in the day). Tickets are free and will be distributed to participants (and their friends) at the fair before 7 pm.