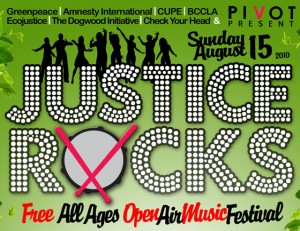 CiTR is proud to support Justice Rocks in Strathcona Park on Sunday, August 15. The third annual free outdoor day festival brings people together to celebrate social and environmental justice through music, workshops, and speakers.
We will be broadcasting live from 2pm to 5pm. Be sure to tune in for music and interviews from the festival.
There will be a marketplace, food vendors, and an info fair with numerous organizations working for social and environmental justice. For the full lineup and listing of workshops and speakers, visit the Facebook page.