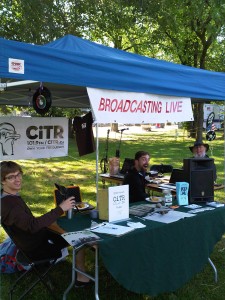 Good morning Vancouver!
A team of CiTR broadcasters were up bright and early this morning setting up for our LIVE BROADCAST from Vancouver Folk Festival at Jericho Beach Park which is on the air RIGHT NOW.
CiTR 101.9 FM is proud to support the 33rd Annual Vancouver Folk Music Festival from July 16th to 18th at Jericho Beach Park. The festival brings a diverse lineup of artists from over 20 countries.
CiTR has a booth at the festival – and we are broadcasting live TODAY from 8am-12pm and 3-5pm.
For more info about the Folk Fest visit thefestival.bc.ca
Listen Live: iTunes / Winamp or Windows Media Player