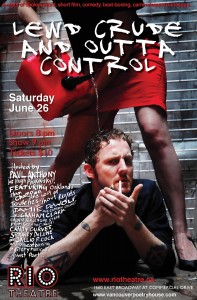 LEWD CRUDE AND OUTTA CONTROL: Dark humoured comedy, not for the faint of heart!
Saturday, June 26th at the Rio Theatre
LEWD CRUDE AND OUTTA CONTROL is a show that features some of the best lewd, crude, dark humoured, spoken word that you've ever heard!! It's a show that has vaudevillian theatrics – part comedy, burlesque, beat-boxing, harmonica pounding carnivalesque. Oakland's own Slam Poet Champion, the notorious Jamie DeWolf, is headlining.
Listen to a preview of CiTR's Arts Report Host Adam Janusz's interview with Jamie DeWolf here. The full interview will be broadcast on the Wednesday, June 30th edition of The Arts Report. Be sure to tune in at 5pm.
Joining him on stage will be local comedian Graham Clark and the gorgeous Carnie Burlesque Stars from Sex At The Circus, Candy Curves, Callio P. Cock and Spooksy Delune, a local super star mystery musical guest and our host for the evening…From Paul Anthony's Talent Time the punk rock comedy of Hugh Phukovsky!
For more information, check out the Facebook page.