Celebrate Canada Day by heading over to Ambleside Park in West Vancouver to partake in the Lilith Fair Concert. International acclaimed and home-grown Lilith Fair Creator Sarah McLaughlin will be donating $1 from each ticket to make the lives of some of Vancouver's most marginalized women better.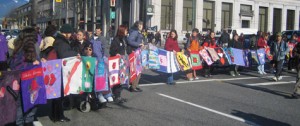 Those dollars raised will be contributed to WISH Drop In Centre. WISH provides meals, showers, literacy, harm reduction, literacy, and health care to female survival sex workers in Vancouver's Downtown Eastside. For those who wish to exit the trade, WISH offers programming to help them change their lives. This starts with accepting them as they are every day. In BC the average age of entry in street life is 12 years old. In Canada it is 14. The women WISH serve experience poverty, homelessness, addiction, isolation, violence, and many other barriers.
Tune into Sexy in Vancity Radio on 101.9FM CITR at 10pm tonight for an interview with WISH's Executive Director. Kate Gibson will be chatting about Lilith Fair, survival sex work, sexual violence against women and what we can do about it.