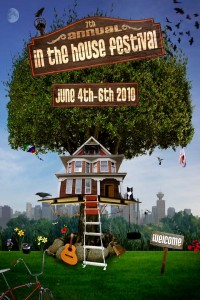 On June 4-6, the In the House Festival is back with a bang – and with an additional day of performances! Live performances of all kinds are happening right in homes off Commercial Drive. Living rooms and backyards become intimate and vibrant cultural spaces that are multicultural, multi-disciplinary, and open to all ages. Come celebrate Vancouver's rich variety of cultures, artistic disciplines and communities all in a heart-warming weekend of mind-bogglingly great talent. Regale your senses and fill your hearts with music and dance, theatre and magic, joy and laughter. It's 3 days, 19 shows, and over 60 acts in a dozen houses!
The box office opens at 5pm on Friday, June 4th, at noon on Saturday, June 5th and Sunday, June 6th. The first show is at 7:00pm on June 4th and 2:00pm on June 5th and 6th. The box office is located on Napier and Victoria. All the venues are in the surrounding neighbourhood.
Tickets
Single tickets: $13 adults / $8.00 kids
4-show pass: $45 adults / $25.00 kids
Weekend pass: $85 adults / $65 kids
There are a limited number of passes, so if you intend to see many shows, make sure you grab those before they're gone. Passes must be redeemed at the festival box office.
Tickets are available online or at Highlife Records on Commercial Drive. They will also be available on days of the festival, but buy your tickets in advance to ensure a seat at shows.
Visit the website for a detailed schedule, performer bios, ticket payment, updated venue addresses, and more.