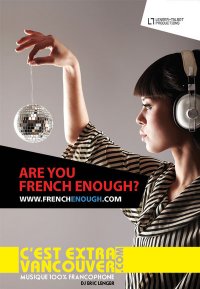 Are you French enough?
Come and celebrate C'est Extra Vancouver! More than 200 people attended last month's event, making this French DJ night a success.
Once again, come dance and sing to the biggest hits of the French repertoire of the last 40 years…from Jacques Dutronc to Gaëtan Roussel, from Boule Noir to Les Cowboys Fringants, including Rachid Taha and Manu Chao!
Your MC for this event will be the surprising and lively Marie-Eve Dumulong, from CITR's French Connection. She will charm everyone with her everlasting energy!
Please note that all C'est Extra Vancouver! events are now broadcasted on CITR 101.9 FM from 3:30 to 5:00 PM every following Thursday afternoon. Click here to access podcasts of French Connection. Confirm your presence on our Facebook page and you might win a prize.
C'est Extra Vancouver! is on Saturday, May 22 at the Backstage Lounge, Granville Island, doors open at 8:00 PM, music starts at 10:00 PM.