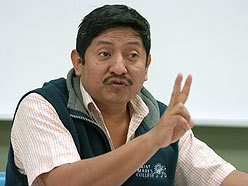 Leocadio Juracan, National Coordinator of the Campesino Committee of the Highlands, a coffee-famers' co-operative that supports social justice work in Guatemala, will be in-studio on Monday 12 April at 5pm.
Small farming co-operatives are facing increased violence. We will be discussing the inequitable power structures and the division of wealth in Guatemala, as well as the ongoing struggles of small coffee producers and the social justice work happening in the country. Mr. Juracan and his family left the country temporarily due to anonymous death threats.
Tune in Monday 12 April. 5pm.
Follow us on twitter: @CiTRnews
Become a fan on facebook: CiTR News
Comments? Email news@citr.ca.
CiTR News 101 | Mondays & Fridays | 5pm