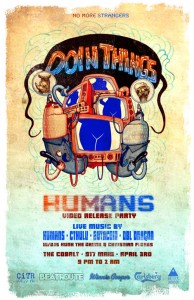 No More Strangers is having a video release party for Humans! It has Muppets in it and sprinkle bum, whatever that is… It will be followed by a live performance from the band. It's all going down at the reopened and renovated Cobalt (917 Main St) with bands @ 10:00 pm.
Also preforming:
Cthulhu
Come witness pop perfection.
Autacoid
Peter R of Humans very awesome solo project.
Dbl Dragon
New Bandddd. 2nd gig everrrr.
Winniecooper.net DJs
Hunk The Drunk & Christian Flores
See you there!