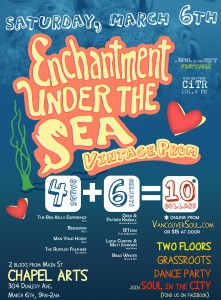 2 FLOORS
+ 4 BANDS (downstairs)
+ 6 DEEJAYS (upstairs)
+ 10 DOLLARS (online @ https://www.VancouverSoul.com or $15 at door)
= the best prom you never had! Bring those tiaras, gowns, and suits, boys and girls – it's prom, baby!
We're having a music festival at the gorgeous Chapel Arts gallery (if you have artwork you'd like to hang up, please send an e-mail to vancouversoul@gmail.com).
Featuring The Ben Kelly Experience, Beekeeper, Man Your Horse, and The Ruffled Feathers downstairs, DJ's B!Team, Leigh Christie & Matt Johnson, Brad Winter, and Oker & Patrick Kimball upstairs.
Beer and liquor will be served on both floors! Bring your friends!
For more info check out www.vancouversoul.com.