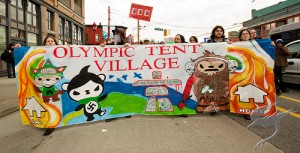 SPECIAL OLYMPICS COVERAGE
Whose voices are being heard during the games? What do these voices signify?
The Tent City protest gains international attention but are protests still overshadowed by Saturday's events?
Check out this Olympics minispot for Wednesday, February 17th. We're your source for the latest coverage of the Vancouver Olympics from an alternative perspective.
Listen here!
Subscribe the CiTR News podcast
Follow us on twitter: @CiTRnews