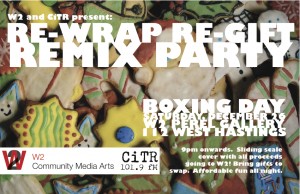 Lamenting your Christmas haul? Hey, don't throw that away! Bring it down to RE-WRAP, RE-GIFT, RE-MIX! A Boxing Day dance party co-presented by W2 Community Media Arts Society and CiTR Radio, with all proceeds going to W2.
Gift exchange with strangers, score some bizarre finds, dance dance dance!
Saturday, December 26th (BOXING DAY!)
9 pm onwards
Perel Gallery, 112 West Hastings
Sliding scale cover
Cheap beverages!
DJs Duncan from CiTR's "Duncan's Donuts," Parmida and Hywel!
Hear the PSA:
https://soundcloud.com/duncanmm/w2-citr-boxing-day-dance-party