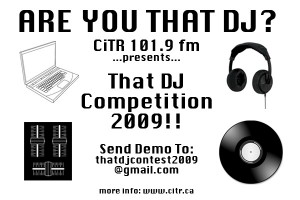 CiTR's 3rd annual DJ competition is almost upon us!
The party is at the Pit Pub at UBC on Thursday, November 12. We want DJs of all styles and genres to show their mad skills! DJ's may use any platform they choose: Serato, Ableton, Traktor, Virtual DJ, 2 iPods, turntables / vinyl, CDJ's, tape decks, live PA are all allowed. You don't have to be a UBC student, just a killer spinner.
The competition is going to be judged by 5 of Vancouver's best DJs. There WILL be prizes!
Rules:
You must send a demo under 30 minutes to enter. Be original! Showcase your unique flavor. The DJ playing order is determined randomly, by names out of a hat.
Your score will be determined by 3 things:
– our judges' opinion
– your pull (how many people you can bring)
– the crowd response
Get your submissions in soon to ensure your spot!!
– Send an mp3 file to thatdjcontest2009@gmail.com.
– Hard copies can be brought or mailed to:
CiTR 101.9 fm
233-6138 SUB blvd.
Vancouver BC V6T 1Z1