---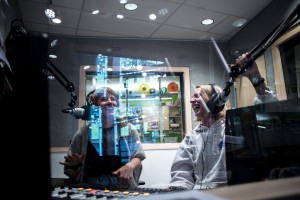 Welcome to CiTR 101.9 FM! Volunteering with us is the best way to get involved at the radio station and Discorder Magazine! Volunteers host radio shows, contribute to the magazine, produce ads, PSAs and radio content, help with live broadcasts, organize our music archive, and more. Volunteer opportunities are open to both UBC students and community members, and we'd love to have you!
Volunteer Wednesdays are on every week, 11-5! Come by and say hi, help around the station, and learn about how to get on the radio!
How to get involved
1) Book a station tour
These take place weekdays at 12:00PM, typically on a walk-in basis. You can also sign up online in the form below. If 12:00 doesn't work with your schedule, you can also contact our Volunteer Manager to arrange an alternative time.
2) Become a CITR Member
Your membership will give you access to workshops and training, equipment privileges, access to our music library and studios, the ability to go on the airwaves and get published, plus the opportunity to get tickets to awesome events and concerts!
Annual Fee
$10 for UBC Students
$35 for Community Members ($30 for renewal)
Payment can be made in person in cash or via PayPal transfer to stationmanager@citr.ca
3) Determine your area(s) of interest
After your tour, you'll be able to chat with our Volunteer Manager about the different departments and the volunteer opportunities within each one. One you've selected which parts of CiTR and Discorder you're interested in, you'll be contacted by the leaders for each area.
Volunteer departments include:
Show Hosting
Producing ads, PSAs, and spoken word content for the airwaves
Live Broadcasting/Sound Tech
Music Department
Event coordination and tabling
Promotions and Outreach to students and the community

Hosting your own show on CiTR 101.9 FM
After you've become a CiTR member, you can begin the process of getting on the radio!
1) Volunteer around the station
Get an idea of what we do around here by volunteering with us! Volunteer Wednesdays happen 11-5 every week with our Volunteer Exec, drop by and say hi!
2) Take our three training sessions 
The sign-up forms, which include info about time and instructor, can be found just outside of Studio B in the station! Training sessions must be done in the following order:
Technical Training: how to operate the equipment that we use to broadcast talk and music
Production Training: how to make any kind of content for the airwaves, from music to interviews, live broadcasts and pre-recorded audio
Programming Training: an overview of CRTC guidelines and CiTR's own standards for producing great radio that reflects our mandate
3) Let our Programming Manager know that you're interested in getting on the air
4) Contact a programmer and sit in on their show
Get in touch with any of our current programmers via their Show Page! Pick a show that you might like to emulate, i.e. if you'd like to host a talk show, sit in on a spoken word program. A sit-in will help you learn what a successful broadcast looks like and give you an opportunity to get valuable pointers from the pros.
5) Do a fill-in show!
Use one of our open time slots to practice your radio skills on the air.
6) Make a show demo
Once you know the ropes, you can make your 30 minute show demo! The demo should be a mini version of your full show (a music show should include at least 10 songs). Be sure to comply with our standards when making your demo: it will be reviewed by the Programming Manager and Programming Committee to make sure it's right for CiTR's airwaves.
Join a Collective!
If you'd love to be on the air, want to work with talented coordinators, have your work edited, and learn about producing radio as part of a team, you can join one of our eight Collectives!
---
We produce '
All Access Pass
' which explores issues of inclusion, equity, and accessibility for people with diverse cognitive and physical abilities, on campus and beyond. Contact
collective
coordinator
Dezy Nair
at
accessibilitycollective@citr.ca
to learn more.
---
We produce the show '
The Arts Report
' which covers local arts events at UBC and in Vancouver, including film, theatre, art galleries and more. Contact 
collective
 coordinator
Ashley Park 
at 
arts@citr.ca
 to learn more.
---
The News 
Collective
produces the show
Democracy Watch
. Our mandate is to provide meaningful coverage of marginalized communities and diverse issues throughout the Lower Mainland. Democracy Watch airs independent and adversarial content, both originally reported and adapted for radio. Contact
collective
coordinator
Alex de Boer
at spokenword
@citr.ca
to learn more.
---
The Gender Empowerment
Collective
produces the show '
Intersections
' which examines intersectional feminism through 
a 
local lens. Contact
collective
coordinator
Melanie Woods
at
genderempowerment@citr.ca
to learn more.
---
The Indigenous 
Collective
 produces the show '
Unceded Airwaves
' which centers the voices of Indigenous people and contends with the key issues and questions in the First Nations and Indigenous Studies faculty at UBC. Contact 
collective
 coordinator
Autumn Schnell
 at 
indigenouscollective@citr.ca
 to learn more.
---
The Music Affairs
Collective
is for those interested in all things music – from live performances to archiving to getting involved with the local Vancouver music scene. 
Join
 the 
collective
 to hang out with like-minded music-obsessed folks! Contact
collective
coordinator
Eric Cauri
at
musicaffairs@citr.ca
to learn more.
The Sports
Collective
produces the show '
Thunderbird Eye
' which covers UBC Thunderbird games including volleyball, basketball and hockey, and offers experience in sports journalism and colour commentary. Contact
collective
coordinator
Jacob Aere 
at
sports@citr.ca
to learn more.
---
The UBC Affairs Collective produces the show '
The UBC Happy Hour
' which focuses on hyper-local news coverage at
UBC
, in addition to exploring broader issues that affect
UBC
communities directly.
Contact
collective
coordinator
Alex Lenz
at
ubcaffairs@citr.ca
to learn more.
---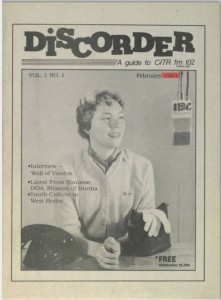 Questions? Email our Volunteer Manager at 

volunteer@citr.ca