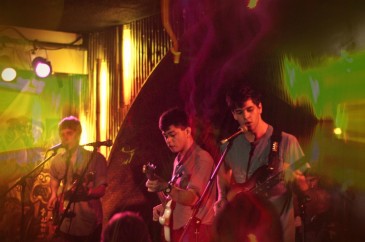 There was certainly a nostalgic warmth radiating from the Waldorf during this triple bill of breezy new wave mavens. The dance floor was already vaulting when Ville Kulla stormed the stage for their live debut. Unfortunately for the local five-piece, their set was marred with some serious sound issues. The mix was muddy and the vocals were lost for most of the set. It's a shame as their enthusiasm was evident, and they displayed a lot of energy with their ethereal and eerie shoegaze sensitivity. Surely their next show will be an audible improvement.
Thankfully all sound issues were cleared up in time for Mode Moderne. They were the centrepiece of the evening in more ways than one and their goth rock distinction, though apt, is a label they easily outshine.
Mode Moderne's set jumped around from tunes off their top-notch self-released long player, Ghosts Emerging, to their recent Real Goths 45 to some new material, too. All of which brazenly echo a distinct dispatch of inky artists like Peter Murphy, Joy Division, and Depeche Mode. Live there is an urgency and danceable determination driving their material, and yes, vocalist Phillip Intile communicates an Ian Curtis-like intensity and aesthetic. For a few numbers, though, he was joined by keyboardist Rebecca Law Gray's backing vocals, which added a nice summery feel to their sometimes bleak dance floor dirges.
Guitarist Felix Fung also deserves strokes for his boisterous guitar, anchoring Mode Moderne into the sweep of Johnny Marr. This segued nicely into the headliners, Seattle's Craft Spells, who also share an amity for the Smiths.
It was easy to fall under the allure of Craft Spells; their lush and snappy sound bequests New Order or Echo & the Bunnymen, sure, but their surprisingly bright and sunny three-part harmonies set them apart form their influences.
Craft Spells controlled the crowd as they focused mostly on cuts off their recent Idle Labor LP. "Party Talk" and "After the Moment" especially dominated the room, creating an inescapable and steamy dance hall imperative. Frontman Justin Vallesteros had star quality to spare, especially when delivering lines like "I close my eyes and I hope we never grow old," with desolate delight. Their sound is equal parts new wave romance and post-punk passion, all done in earnest diversion and intensity.
At one point things got so intense, in fact, that drummer Peter Michel destroyed his snare drum, temporarily tarrying the momentum of the show. But, in deus ex machina fashion, a replacement drum emerged from the ether (perhaps courtesy of one of the other bands?) and the frenzied dancing and warm pop pageantry was restored.
After the show, the stirring night air was a relief from the sweaty room, and the gleeful rabble was more than satisfied by what had been an electrifying evening.