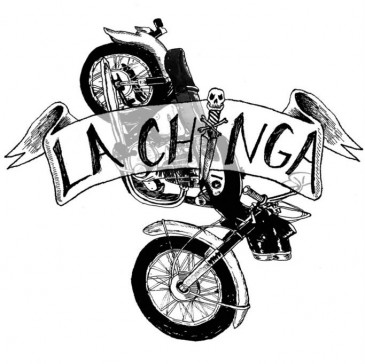 Vancouver's musical landscape is painted with everything from shoegaze to hip-hop. Its rock 'n' roll culture isn't always quite as visible though. Discorder sat down at Perch with La Chinga, one of the West Coast's loudest rock bands, to talk about their self-produced, self-titled debut album [released April 19] with a big party at the Rickshaw. Carl Spackler (bass/vocals), Jay Solyom (drums), and Ben Yardley (guitar/vocals) make up the three-piece, who lace together a sound so rooted in the '70s that visions of motorcycles and desert leather are evoked the second you press play.
Discorder: A lot of your reviews and press compare you to metal, but personally I would not consider it metal. How do you classify your music?
Ben Yardley: Rock! We play 70's-inspired hard rock.
Discorder: Your album release was last Friday [April 19]. How did that go? Did people receive it the way you were expecting?
All: It was great! Went really well.
Carl Spackler: Yeah, it was awesome!
Yardley: It was the biggest room we ever had to play on our own, so I thought it was going to be pretty lonely, but we had a great turnout.

Discorder: I read on a blog that La Chinga formed almost accidentally. Is this true? What is a brief history of your formation?
Yardley: It started in fall 2011. That was the first time that we played. Carl had a gig, but his band members were out of town and so he asked Jay and I to fill in. We had all been buddies for a really long time so we didn't want to say no. We'd never played before as a three-piece, but yeah, it was just awesome.
Spackler: There was a lot of really really good music chemistry. We played in different bands before, but with these guys, it's different. Our first show was at a festival in Langley, all the other bands were nice folk bands, and when we played, a police helicopter came. That was pretty much it.
Yardley: Yeah that was the moment like, 'Yeah okay. Lets do this.'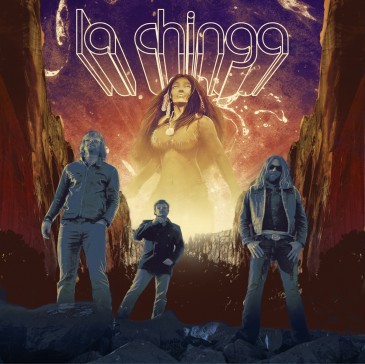 Discorder: I listened to your new album, La Chinga.
Jay Solyom: Yeah we couldn't think of a name …
Discorder: Well, it was great anyway. In Spanish it literally means, 'the fuck'?
Yardley: If you translate it literally, it means, 'the fuck.' But how it's actually used, it's like an expression of excitement.
Spackler: It also depends on which country you are in. In some, it means naked lady or woman.
Yardley: Yeah, someone came up to me in Kelowna and said, 'Your name is so wonderful! It means, naked lady!' Great.
Spackler: The one we based it on means, 'heavy duty,'in a positive way. We love the Mexican culture … There is something kind of sun baked about our sound. We really love that stuff. I love going to Mexico.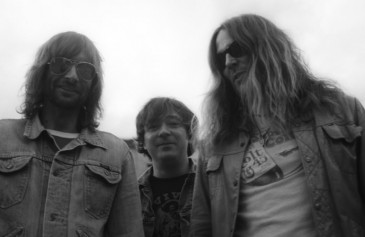 Discorder: What is your recording process like? Do you mix and produce yourselves?
Spackler: (pointing to Solymon) He does in his basement. We all do the producing.
Yardley: It's nice running on your own time and being comfortable in the setting.
Spackler: Yeah being polished is not our thing. It's nice forgetting the mics are on and just going with it, instead of being in some fancy place that makes the whole process a stressful thing.
Solymon: We recorded everything live, in one take. Except the vocals were done separately.
Yardley: And we added some spaceship noises!
Discorder: I hear some Stooges and Jimmy Page in the vocals. Are they major influences?
Yardley: Oh yeah!
Spackler: Yeah, when I was a kid, the first record I ever bought was by Led Zeppelin. Lots of hard rock vocals influenced me, I was always into that high screaming sort of thing, but still trying to sing. The bands that influenced me the most were the ones that never made it, but had a similar sound to the big ones.
Solymon: We grew up on different kinds of music too, like jazz, punk rock, blues. But the heavy ones got us a lot more into music.
Ride on, dudes.
____________________
Saddle the fuck up with this head-bangin' trio over on the rock! La Chinga plays Lucky Bar in Victoria on May 4. Pick up La Chinga on lachinga.bandcamp.com.