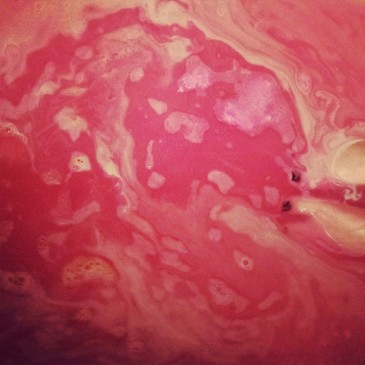 Lately, Vancouver's music appreciators have noticed a renewed interest in '60s-tinged psychedelic and surfy garage rock. Prehistoric, the latest EP offering from Abbotsford's MALK, is one of them. As the title may suggest, MALK's sound is indebted to this '60s era of sound, now long past, and of this variety of retro revivalist albums, Prehistoric is one of the most inspired.
Keefer Pelech's recent Discorder feature explains how MALK recorded Prehistoric almost entirely live off the floor with producer Felix Fung. Fung's traditional approach could not have benefited Prehistoric more.
The album's emphasis on live performance is best heard in the opening and title track, which explode with surf rock's signature claustrophobic energy. Fung successfully captures MALK's vigourous performance, placing the listener right there in the room with the band. (Only it doesn't sound like a room, but more like a concrete tunnel, no greater than a couple of metres wide.) Kyle Schick's cutthroat guitar riffs sound-off like a rabid doomsday crier, roused by Fung's rich, but tasteful pall of reverb.
Though the '60s surf rock vibe is ever-present, Prehistoric is brushed with shades of '80s new-wave and post punk. Alex Smith's vocal delivery often conjures Fred Schneider's deadpan intensity in the B-52's. However, Smith's words forgo the absurdism, in favour of old-fashioned sincerity and whimsy. In "Each Other," he bemoans a failed relationship in the style of a lovelorn doo-wop single: "We sat around and sucked up the sky / Now all we do is make each other cry." The track's sinister guitar and synth textures, however, recast these sentiments in the same despair of The Cure's Disintegration.
The last track, "Satellites," is a slow-burning menace of a brooder, helmed by Miranda Maria's seductive vocal performance. While Maria's gothic crooning floats about, the song builds to a point of no return, as it finally erupts in a Morricone-meets-Vangelis cyclone, suggesting drummer Jaydee Bateman's familiarity with Stephen Morris.
On paper, MALK may seem like any other band riding the current wave of surfy garage rock. However, one listen to Prehistoric will reveal a young, lively, and distinguishable band whose success is derived, not only from an articulate amalgam of influences, but also from an unrivaled sense of urgency. Supported by Fung's exceptional production, it's obvious that MALK runs much deeper, below the waves.