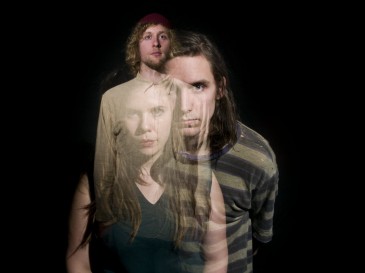 On a quiet night filled with possibility and the unknown, I find myself in the living room of an East Van apartment. Beers are passed around and spirits are up as I take a seat with the band Dead Soft. The trio of rockers seem open and at ease as they tell me about what a rush the last year has been and what's next for the band. (Hint: it involves a lot of shows and the release of their self-titled first full-length album.)
Currently based out of Vancouver, Dead Soft first started three years ago in Victoria. Nathaniel Epp and Keeley Rochon, childhood friends from Prince Rupert, met up on the island and started jamming together before relocating together to Vancouver shortly after. In the band, Epp covers guitar and vocals, Rochon delivers the bass, and Graeme McDonald, who joined the band last year, mans the drums.


Dead Soft harken back to '90s grunge-pop with an affinity for overdriven guitars and catchy vocal hooks. The three-piece lays the fuzz on thick with their wall of sound, punctuated by slower moments of reflection, before the aural dam bursts once more. Epp's singing is often marked with growling accents and lazy falsetto transitions that cut through perfectly. Catchy background vocals often wander in and out, adding texture and inviting participation.
Since moving to Vancouver, Dead Soft have steamrolled along from one gig to the next, working to establish themselves within Vancouver's crowded music scene. It seems like karma is in their favour though, as the band recently put on one of their biggest shows to date: on February 24, they opened for the Courtneys and the Pack A.D.
The show provided Dead Soft with a chance to greatly expand their fanbase, winning over the crowd with their brand of infectious pop-punk. Rochon was also impressed by the male-to-female ratio of the show's lineup. "Only two boys on a bill with three bands. That's a rock show."
Dead Soft have had a lot of experience inciting energetic fits out of Vancouver audiences, playing at many of the local dives, as well as a sampling of home shows. This history of riotous live sets was put to test when the band embarked on an ambitious cross-Canada tour last summer with the band Sightlines.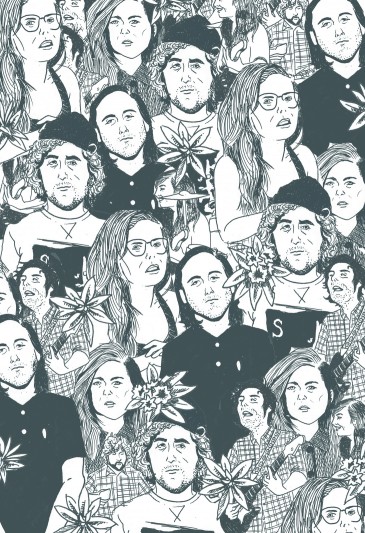 "It was hard work, and also the most fun I've ever had," recalls Epp. Over the five weeks of touring, Dead Soft made it to the Maritimes and back, entertaining a plethora of different Canadian audiences. The band took the energy and presence that defined their tour and upon returning to Vancouver, they immediately put themselves to work transcribing it onto a new album.
For their debut full-length, Dead Soft reached out to Jordan Koop — who previously helped the band record their live EP. With a plan in mind, the trio set off for Gabriola Island, home of the Noise Floor Recording Studio and resident producers Koop and Terry O. The destination studio allowed the band to escape from everyday distractions in order to focus on their album.
"It made it a lot less tense than it would have been if we were recording in Vancouver," says McDonald. It was also their first time recording in a real studio setting.
The band spent six days together laying down their parts. After the initial batch of recordings, Epp returned alone for a session to finalize his tracks. The process allowed the band to explore each song and achieve the sound that they wanted. "Laying down the songs, having that time to listen to it after our initial blast of recording, and then going back and really knowing what it was. It took a while for it all to sink in, for me to hear what it sounded like," says Epp.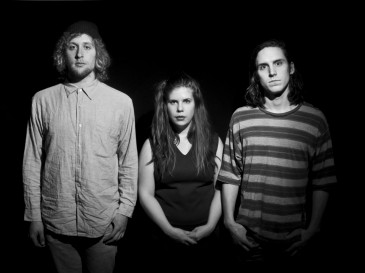 "The new record's a little bit heavier. It sort of represents our live shows, because [our songs are more intense] live," says Rochon.
"It has a different attitude," adds Epp. "There are still harmonies, but it's moodier. It's not kid-ish."
Part old Dead Soft and part new Dead Soft, the album is a reflection of their history, with a combination of both old and new songs. "It's almost like a timeline of the entire band. It includes some of the oldest material, as well as material that was written a week before. It sort of spans the life of Dead Soft up to this point," Epp explains.
While the album's being mastered, Dead Soft is already looking ahead to the future — Epp is awaiting the next time they go in to record, which he hopes won't be long from now. "We have a lot of stuff on the way. I think we grew a lot from the combined experience of touring and then going into the studio shortly after."
While the album won't be out until later this spring, listeners can quench their Dead Soft thirst with the band's previous releases, all readily available on Bandcamp at a "name your price" rate.
____________________

Miss Dead Soft opening for the Pack A.D. last month? Redeem your eardrums by checking out their show on March 7 at the Cobalt with Woolworm, No Boy, and Tim The Mute.