Sitting at a side table in the Fox Cabaret Saturday evening, trailing disco lights and revolving red squares with the Howling Hex playing on stage and I felt like I had missed something, like I walked into the middle of a set of some band that everyone was supposed to know, but if they were all to pause for a second I am sure the confusion would be shared.
"It's the Howling Hex, everybody!" Hagerty repeated at least three times during a thin 15-20 minute set. Then the songs would start with the percussionist/tambourinist rambling about some man rifling through pockets at a bus stop, or meeting four people like the four corners of the earth. And the song would swell, and Neil would shout a hook with repetition befitting an alt-punk mainstay, and the band would jam, and the song would ebb, and end. About five or six times. Then they depart, and instead of any sort of encore Hagerty walks back to the microphone to exclaim, "It's time to dance!" and proceeds to pack up his equipment. Folks shuffle about, I shuffle out.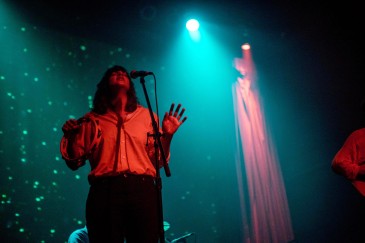 It was underwhelming to say the least. Not that they played poorly, in fact some of it was quite exciting, however there was an ephemeral quality to it, like we should just catch on to what we could and enjoy. Though in a way, what was I expecting? For anyone showing up to hear some Pussy Galore or Royal Trux, get over it. This was the HOWLING HEX, everybody!
Back to the beginning. An understandably sparse crowd for Vancouver alt rock three-piece Mormon Crosses, jilted into playing an earlier-than-early show, already one song deep by the time I arrived at 7:45pm to join the other eight or so spectators, which is too bad, because catching them live for the first time really elevated my appreciation for the group. It was a much louder, intense assault than what I anticipated from their recordings, complete with a terrific, relentless approach from Bryce on drums. They kept speakers rattling and sonic tension encompassing, without venturing too far into the dangers of jamming out. The set was focused and tough, it deserved to have more people see it.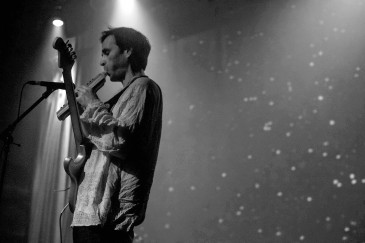 Then came what for some in attendance may have been the main event of the evening: the debut of the Gretchen Snakes Band. Brody McKnight has apparently spent the last few months taking his oriental, sinister and brooding guitar pieces and translating them into a four-piece Gretchen Snakes soundscape, occasionally even throwing in some lyrics, delivered monotonically yet with purpose. The performance didn't disappoint, occasionally reveling in some nice guitar freakouts common to those familiar with the Mutators or Nu Sensae, and included a good sense of style. The two other guitarists kept their backs turned to the audience while flooding us with a dirge that will hopefully soon see the light of day in one form or another. Not that you would listen to it in the light of day, of course. It belongs in dark corners, murky dreams or the dim red and black of the Fox.
Until suddenly it's over and you realize you're leaving a show at 10pm; you try to keep the Gretchen Snakes Band at the front of your mind to distract you from the disappointment of the Howling Hex, here and gone again, flitting by like some anecdote you hear somebody else telling on the bus, that you just don't quite catch.