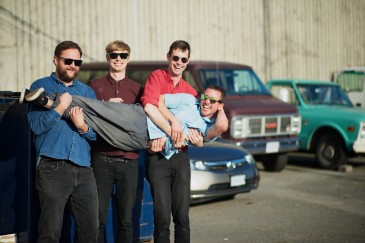 "We've learned nothing about anything, and we've forgotten most of what we knew."
Drummer Bruce Dyck may be quick to crack wise about the five years between B-Lines' releases, but his witticism couldn't be farther from the truth.
While the past few years have seen their ups and downs for the punk rock four-piece—with periodic breaks to deal with personal affairs, amidst a bevy of shows and festival appearances—the time itself has been well-spent. Between performing countless shows, recording a new album, and nearly getting themselves killed, B-Lines have emerged bloodied, bruised, and ready to do it all again.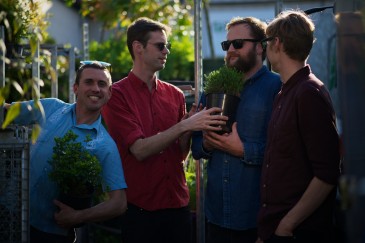 "I remember once when Ryan was trying to bite into a cord connected to a projector and he ended up tearing the whole thing down. [The bouncer] was not happy," reminisces bassist Todd Taylor. Frontman and vocalist Ryan Dyck notes their last show at the Cobalt when the same bouncer threatened to shoot him after he threw a cinderblock through a mirror behind the stage.
"But he likes us now," guitarist and band diplomat Scotty Colin interjects. "He doesn't want to kill us anymore; we're friends."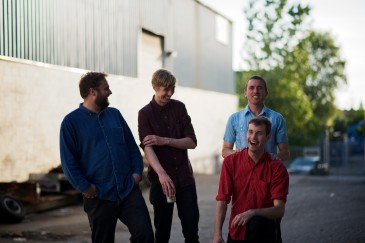 Memories like these are frequent amongst the band, and it's not hard to see how the group quickly developed a reputation for blitzing through their often violent sets. But luckily for their fans, these harrowing experiences haven't lead to any sort of change in character for B-Lines.
"So many bands just play songs; I can just listen to records if that's what I want to hear." Ryan's attitude towards live performance is fitting, considering his is the body that's most often seen contorting and smashing into things on stage. His sympathy for an audience that doesn't see the point in shows "unless they're watching someone flail around on the floor embarrassing himself" is certainly in-tune with the raucous performances B-Lines are known to give, and shows a few broken bones can go a long way.
On June 27, somewhere in the midst of the chaotic performances, B-Lines found a time to release their newest album, Opening Band. A nine-track outing, their latest effort is—at times—as tongue-in-cheek as the title would suggest, and packs the same amount of punch the bands' punk sensibilities have been known to produce.
Listeners waiting for the day when B-Lines offer up a truly lengthy album, however, shouldn't hold their breath. Much like their earlier work, Opening Band is chock full of blisteringly fast, in-your-face tunes, and doesn't even give you the time to slap ointment onto your whiplashed neck before another track calls for your head banging to continue.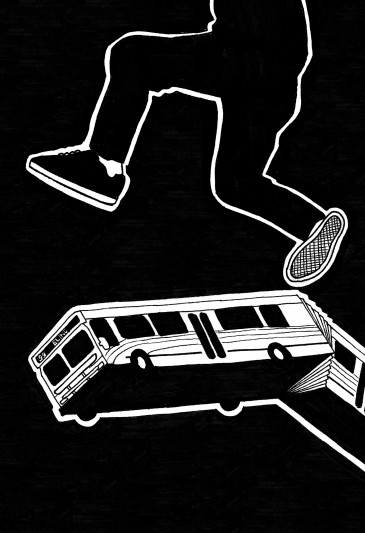 "It's like drinking really strong tequila instead of a 12-pack of Bud Light," Ryan offers. "Some of the shorter songs actually started out longer, it was just as we were writing them we decided that we didn't need to do certain parts three times if we could just do them twice."
"You want to push yourself," adds Bruce, "every song is a race."

With a name like Opening Band, it's hard to not assume B-Lines have crafted an album to celebrate, or perhaps denounce, the time they've spent fledging their act as musicians.
"All of our songs reference things we know about," says Ryan, criticizing the notion that good music—and good punk music, in particular—can be made from writing about disingenuous or trite concepts. "A lot of punk bands write songs about classic punk tropes or weird British stuff or weird LA stuff. I mean, I've been to LA, but I don't know anything about the sun. [Opening Band] is a celebration of shitty local bands that no one will remember but you. And we're that band, that shitty local band that goes on stage and knocks stuff over and steals the beer out of the back room."
"If anything, we're sincere and we don't do anything because we have any expectations," Colin concludes. "We do it because we love it."
With those sentiments expunged, B-Lines are ready to get back on the road and kick off their tour down the West Coast in correlation with the new album. As Ryan notes, they're anxious to get started with "meeting a lot of new people, sleeping on a lot of new floors, and puking in a lot of new garbage bins." Don't fear, punk rock fans—B-Lines are back in action.
Make sure you pick up B-Lines' newest album, Opening Band, available now through Hockey Dad Records.