There's something special about a Dead Soft show. Maybe it's the earnestness with which the band performs, or the genuine, innocent excitement that they coax out of cynical crowds of half-drunk hipsters, or even the passion with which the members will watch transfixed by all the bands before and after them. There's something special about a Dead Soft show. And so, after two months away on tour in the US of A, it was a real nice thing to walk into the Astoria and be surrounded by an atmosphere of music-nerd-sanctuary, a safe haven for fuzz-heavy guitar aficionados to wax poetic about whatever Dinosaur Jr are up to these days. It felt like home.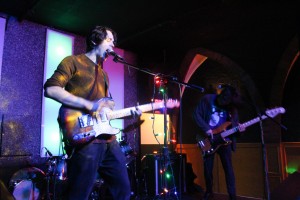 Doppelganger turned out to be my "I'm only hearing about them NOW?" band of the night. Mountains of energy plus members of local favourite MOSFETT, the trio powered through a set-list that had all of the garage-rock charm, not to mention the ear-candy bass lines, of the Beck-imagined Sex Bob-Omb. Doppelganger were definitely not pop punk, but they were a little pop punk; with a drummer hell-bent on never repeating the same fill twice (and sporting a pretty amazing mullet/moustache combo), their energy could almost come across as silly if it didn't feel so sincere. At one point someone in the audience tried to hand-feed a beer to frontman David Madge, who awkwardly refused the intrusion to finish his wicked solo instead. Doppelganger's priorities were on point.
I've been told to see Pinner play, adamantly, by upwards of a dozen people who have a foot dipped in the Victoria music community. That it's taken this long to finally see the imported Islanders is a testament to my bad luck, as they've been making frequent incursions on the mainland recently. The four-piece, composed equally of male and female musicians, borrows talent from legendary party-rock outfit Slam Dunk, and that's reason enough to give them the time of day. Their set was equal parts raucous noise, pop-punk charm, and heartfelt crooning. A grungy group slathered in the charm of '90s slacker rock, Pinner left me with a giant, shit-eating grin on my face.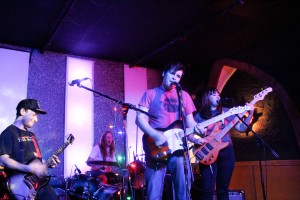 Slow Learners definitely had a different charm to them than the previous openers. More streamlined, less rambunctious, and a wee bit more traditional rock 'n' roll, the heaviest band of the night played a dedicated half-hour of fast-paced punk rock with nary a pause. There's no disputing the talent and drive of the three-piece, but a combination of the peppy groups previously and my old-man curfew fast approaching added up to a set that was easy to enjoy but hard to remember. The impressive rendition of a Fleetwood Mac cover was a glowing exception.
The first time I saw Dead Soft play was maybe a few weeks after the two founding members of the band, bassist Keeley Rochon and guitarist Nathaniel Epp, moved to Vancouver from Victoria. They were fresh-faced, nervous, and maybe a little overwhelmed before taking the stage. The band that greeted us hot off the heels of a two-month long sojourn into the deserts of the United States was a very different trio ascending the steps to the Astoria's ratty stage. There's still an innocence in their passion that is captivating and mesmerizing, but the band walks with a confidence gleaned from years of steady progress in the Vancouver music world. The trio turn Frankenstein as they touch their instruments, transforming from humble music geeks to electric-channelling grunge phantoms, and its this transformation that has held true throughout their tenure here. It's just as fantastic to witness now as it was the first time.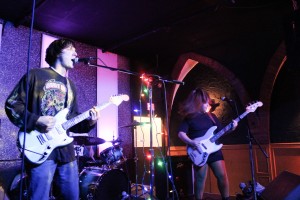 Dead Soft's ode to grunge was a powerful performance filled with fan favourites (of which there are plenty), old stand-bys and even a few newer tracks they'd obviously been unveiling over their tour. It's certainly the most varied one of their sets has been in a long time, and in that vein being trapped in a van together for two months probably did them a lot of good. You could tell, looking closely at Graeme McDonald's frenzied drumming, or Rochon's swaying bass hooks, that the band was tired, but tight, at the end of a long time spent on the move. But at the end of the night, more than the group's ferociously fuzzy performance, what stood out the most was how shows like this one—shows filled with positive energy and vivid support and entranced listeners—just don't come around very often. If Dead Soft are the tuning fork channelling all those good vibes, then we're damn lucky to have them back.