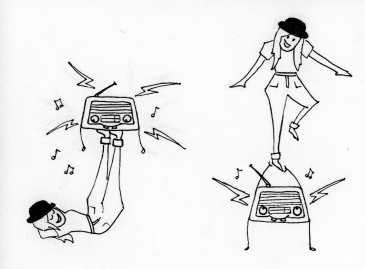 Fundrive: it's a theme that runs heavily throughout our first issue of 2015 and one you're hopefully already familiar with. Every year, CiTR — and through direct association, Discorder — has a large-scale fundraiser for the station and magazine. Even though the majority of people involved with both CiTR and Discorder are volunteers, there are still a lot of costs that go with managing the two: day-to-day operating costs, buying and maintaining equipment for the station, actually printing this magazine, and so on. At the end of the day, media can be an expensive endeavour and the student fee collected by CiTR only goes so far.
Most years Fundrive has a tangible goal for everyone to work towards, with past objectives including purchasing new soundboards for our on-air studios and helping cover the cost of our big move into the SUB later this year, which leads me into the theme for 2015: "Let's get digital." I won't go too heavily into the details of this upcoming Fundrive — CiTR's current student executive president Eleanor Wearing's already done a great job of that on page [INSERT A PAGE HERE YO] — so instead I'll turn to an anecdote-based approach.
On the Sunday of every production weekend, the staff and volunteers of Discorder converge in the lounge at CiTR to proof our upcoming issue and eat copious amounts of pesto hummus. It's a nice chance for everyone to catch up on the month that was, but it's also the root behind a memory that I think perfectly encapsulates the importance of Fundrive and CiTR.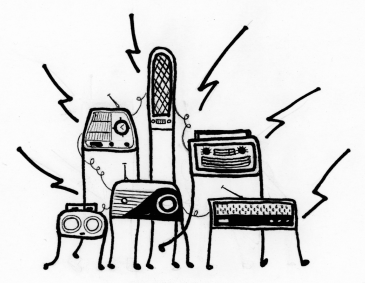 After one of our proofing parties last year, a man came into the station with his teenage daughter and asked me if he could look around; he'd been a DJ at CiTR years ago and happened to be on campus that day, so he wanted to show his daughter the place where he'd spent so much of his time during university.
As someone with weekly office hours at CiTR, I admittedly don't pay much attention to my surroundings anymore, but the way this guy saw the station still resonates with me. From the faded comic strips that line the station hallway to the perpetually messy listening lounge, it was like he was looking at an old friend he hadn't seen in years. We eventually came to the station's record library, a small enclosed area with shelves upon shelves of physical records, and he grabbed an older one to show me little notes scrawled on the back.
"DJs would leave comments for each other on the album covers," he said, "things like 'Don't play track seven. People always play track number seven and it sucks.' or 'Number three is the only decent song on the album.' Sometimes there would even be people arguing via the comments." It's the kind of history you take for granted, considering if I want to hear a hundred different opinions on a new release, all I have to do is do a quick Google search.
It was a scene straight out of  a coming-of-age drama, when the two of them started to leave and I heard the father say to his daughter, "And that's why you're going to UBC." I'd be hesitant to say adoration for CiTR and Discorder is hereditary, but it definitely has a way of permeating generations.
So it goes,
Jacey Gibb