November was the cruelest month of 2016, between the results of the U.S. presidential election validating white supremacy, bigotry and rape culture in North America, to our own, sad realization in Canada that the Liberal promise of electoral reform by the next federal election is but a pipe dream. And we're going to get more pipelines! Thanks, Justin Trudeau.
In British Columbia, Premier Christy Clark seems to have fulfilled Lawrence Paul Yuxweluptun's depiction of her as a snake demon in the painting "Christy Clark and the Kinder Morgan Go-Go Girls." I have a theory that the farcical politics she demonstrated in 2016 is actually delayed revenge for the cancellation of Om The Bridge on National Aboriginal Day 2015. (Can I get a "Namaste?")
Speaking of downward dogs, how about the members of the CanLit community that signed UBC Accountable's Open Letter defending the professional reputation of suspected sexual predator and former UBC professor, Steven Galloway? R.I.P. my respect for Margaret Atwood. *Sigh* Must all our heroes die in 2016? (That's a rhetorical question because the answer is obviously: "Yes, all our heroes must die in 2016.")
I have agonized over the topic of this Editor's Note. I posed it as a question on Twitter, and at the time voters chose "Resistance + solidarity" as the theme. In light of the approval of the Kinder Morgan pipeline expansion on unceded Indigenous land, and the hard-won fight against the Dakota Access Pipeline at Standing Rock, I can't speak to that topic right now. How can I summarize in 600 words what hasn't happened in 500 years? There are radio programs on CiTR 101.9FM, Unceded Airwaves in particular, that have begun to unpack the meanings and manifestations of resistance and solidarity. I promise, Discorder Magazine will pick it up in 2017.*
I am suddenly reminded of a song in the seventh episode of the sixth season of Buffy The Vampire Slayer, "Once More, with Feeling." Specifically, "Where Do We Go From Here," when the Scooby Gang realize that they are individually broken, but hurt together. That scene is an overly dramatic comparison to the dissolution of the 'liberal bubble' (I am referencing a teen vampire television drama, after all), but I think it's fair. It concludes with a steamy make-out between the characters Buffy and Spike. I am not suggesting we all start kissing, but there is some advice to glean:
Find the people that you love, and hold them close.
For the December / January issue, Discorder interviewed artists, writers and community organizers who have different approaches to expressing love for their communities. Our cover artist, Kimmortal, advocates for the representation of women of colour in local rap; Adèle Barclay shares her most intimate relationships in her new book of poetry, If I Were In A Cage I'd Reach Out For You; Dad Thighs reconnects with the emo scene through their upcoming album, The Ghosts That I Fear; JayKin reconnects with hip hop through Bonus; Gary Cassettes is Victoria's River Spirit of tape releases; Music Waste 2017 strives for inclusivity under new leadership; and Story Story Lie brings storytellers and comedians together for all-ages performances and radio segments.
Worried that I hadn't packed enough cultural references into this Editor's Note, I chose the title from a lyric in Neil Young's "Don't Let It Bring You Down." That song, along with "I Pity The Country" by Willie Dunn and "Repatterning" by Ora Cogan have been incredible anthems of strength over the last few months. Thank you.
A+
BB
P.S. To those folks who are going to ask me about it, Discorder Magazine is not printing any self-aggrandizing Best of 2016 lists. We leave that for other rags, but you can visit page 23 of the physical magazine for a list of the top 100 albums played on CiTR 101.9FM.
*P.P.S. On a related note, please take our online Readership Survey. We want to know how to serve you better, and give you a chance to win stuff at the same time. Take the survey here.
---
For a little end-of-the-year bonus, here's a photo of the 2016 masthead by Discorder contributor and freelance photographer, Jennifer Van Houten.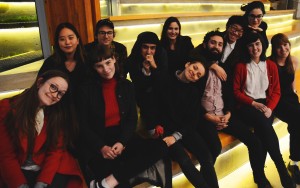 And thank you to everyone else who helped out on the magazine throughout the year!