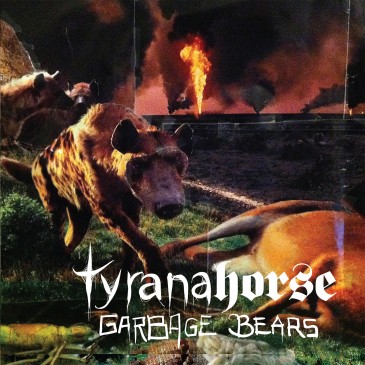 East Van's eclectic indie darlings Tyranohorse's follow up to their 2011 full-length ghostwolfmotherhawk, the 16-minute EP Garbage Bears, is fittingly named after refuse-loving omnivores. Their ramshackle rock 'n' roll cabaret sounds like a gang of grizzly beasts discovering a pile of gently-used musical instruments at the dump. That is, they have an eclectic sound, not surprising with the band's mixed pedigree, which includes grunge, classical, pop, country, hip hop, hardcore and good old-fashioned rock 'n' roll.

"AA Foreplay" is the detox love song of the summer and features some of the best use of a theremin since "Good Vibrations." The song introduces itself with Max Stockholder bashing the ebonies and ivories before guitarist Darren Fleet, drummer Brent Glasgow Brown, and bassist Jaro Welz lay down some power-pop reggae around his keys. Things get hot and heavy when PrOphecy Sun's sultry rock goddess voice forces its way into the track chanting, "We like to be touched / We like to be kissed / All over."
On "Out of Control," druggy lounge lizard keys tinkle under some dirty guitar, while PrOphecy Sun begs the question, "Have you ever heard of Quaaludes/ They make you feel real nice/ And they make you feel funny inside." She continues to employ this erratic Socratic Method, asking the listener, "Why don't you fuck up everything?"
The whole band functions as a powerhouse unit, but PrOphecy Sun is the clear star of the show, head-spinning around the microphone like Linda Blair, and dropping bouts of spooky theremin and kazoo.
After the high-energy of "Rumble Tumble" with its crunchy guitar lines and rollicking tom-tom intro, Garbage Bears crawls back into its den with the flighty, torch of a song, "Alice." PrOphecy Sun howls under a slow burn of church organ chug, guitar arpeggios and whistling until the music finally explodes into an euphoric mess of pulsing rhythms and a swirling melody.
Garbage Bears is only a taste of Tyranahorse's sonic gumbo, but their tunes will linger on your musical palette all day.