On the show today…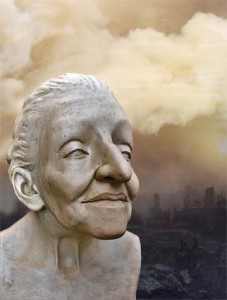 Penny Plain
A riveting apocalyptic tale where there are serial killers, talking dogs and mysterious strangers, Penny Plain's narrative is all portrayed through the blind eyes of Penny Plain. Even without his vision, Penny Plain is aware of the mankind's despair as the world slowly disintegrates. Penny Plain is brought to life from his still-life puppet shell by Ronnie Burkett and his Theatre of Marionettes. As one of Canada's leading puppeters and theatre artist, Ronnie Burkett displays his distinctive style through some dark laughs in this gothic thriller.
Happening from now until Dec 17th at The Cultch.
Shadow Catch
Intertwining the pre-war history of Powell St. and Japanese-Noh influenced chamber opera, Shadow Catch illustrates the colourful Downtown Eastside narrative. Echoing the classic tale of Christmas Carol, the opera features a young runaway newly arrived in Vancouver and decides to stay the night at Oppenheimer Park and meets four spirits that tells of the stories of the area. Vancouver's finest poets and composers including Daphne Marlatt, Dorothy Chang, Jennifer Butler, Farshid Samandari, and Benton Roark.
Playing from this weekend on Dec. 2nd – 4th at the Firehall Centre for the Arts.
Plus… DareArts and False Creek School are collaborating to Vancouver Playhouse Theatre Company for a production of La Cages Au Folles to address gender roles and bullying.
A refreshing twist on Wizard of Oz at the Carousel Theatre that is fun for the whole family.
Dancer Transition Resource Centre is having their 25th anniversary Gala tomorrow night called Choreographing Change.
Tune in today at 5PM!
Subscribe to the Arts Report podcast.
Hear past interviews on YouTube!
Follow us on Twitter.
Like us on Facebook!